Minior
Minior is the pokemon whish has two
types
(
Rock
and
Flying
) from the 7 generation. You can find it in such biomes as a Extreme Hills, a Extreme Hills Edge and others.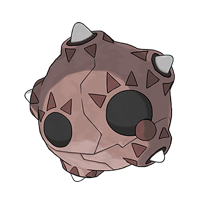 Spawn Biomes
Extreme Hills
Extreme Hills Edge
Extreme Hills M
Extreme Hills+
Extreme Hills+ M
Cold Taiga Hills
Cold Taiga M
Ice Mountains
Ultra Deep Sea
Location: Land,Rock Smash, Times: NIGHT, Spawn Level: 15-40, Rarity: 40
Genders
Spawn Level
EXP
EXP Group
Frienship
Egg Cycles
Timid
-
20-50
154
MediumSlow
70
20
80/0/20
Height
Width
Length
Weight
EVs Give
2 m
1 m
1 m
0.3 kg
Attack: 1, Special Attack: 1
Rideable
Fly
Swim
No
No
No
How to catch?
Catch Rate:
30






3.92%

5.88%

7.84%

19.59% (Only on first turn!)

13.71% (Only if pokemon in water!)

13.71% (Only if pokemon in dark place!)

15.67% (This pokemon Fast! Use Fast Ball!)
Stats Calculator
| | HP | Atk | Def | SpAt | SpDef | Spd | Sum |
| --- | --- | --- | --- | --- | --- | --- | --- |
| IV | | | | | | | |
| EV | | | | | | | |
Base
Calculate
HP
60

0

ATK
100

0

DEF
60

0

SpA
60

0

SpD
120

0

SPD
100

0

Sum
500

0